Babylist Baby Registry Information
There is always excitement that comes with creating your baby registry, and if you want the best of all baby worlds in one place, the Babylist Baby Registry might be the one for you.
After all, the market is filled with lots of products for newborn babies and toddlers and a variety of options to select from in each category. Most times you ask yourself, "Where do I start?"
One of the most amazing things about the registry is that it eliminates the stress of having to sort the must-haves from the don't-haves from the nice-to-haves. You don't need such stress in the months after welcoming a new member to the family.
Overview
Whether it is your first registry or you've gotten to know your way around a registry, starting from your wedding planning days, one sure thing is that we all need a registry that is easy to use, compatible with almost every item, educational, and efficient. The list of stores selling baby products and their registries is almost endless. You're probably looking to include a lot of brands from different stores.
This is where I say you're lucky to have found this blog. Babylist can take care of your needs. This means that the cute bunny bedding you saw at Pottery Barn and the chic wall decor you saw at Etsy can all find a spot on the Babylist Baby Registry. Isn't that amazing?
By the way, don't forget to check out the useful items list for a baby registry.
Benefits of Babylist Baby Registry
HELLO BABY BOX
When you register with Babylist, you can score a free Hello Baby Box, which is loaded with amazing samples and offers of desired brands for moms-to-be and new babies. Not only are there free items, but the Hello Baby Box can acquaint you with the products and brands that you may go gaga for and need to add to your Babylist Baby Registry.
The main thing you need to do is set up a Babylist Baby Registry that contains at least three items and pay the $4.95 standard shipping fee. Easy-peasy!
EASE OF USE
If you're comfortable with Pinterest, you'll have no difficulty making sense of how to use the Babylist Baby Registry, since it works in almost the same way. You add anything you need to your registry, pulling items from any site you wish.
Many items can be found by shopping directly on Babylist's site. It has an assortment of items not sold on bigger retail sites such as Amazon, including Nuna Pipa and Nuna Rava car seats.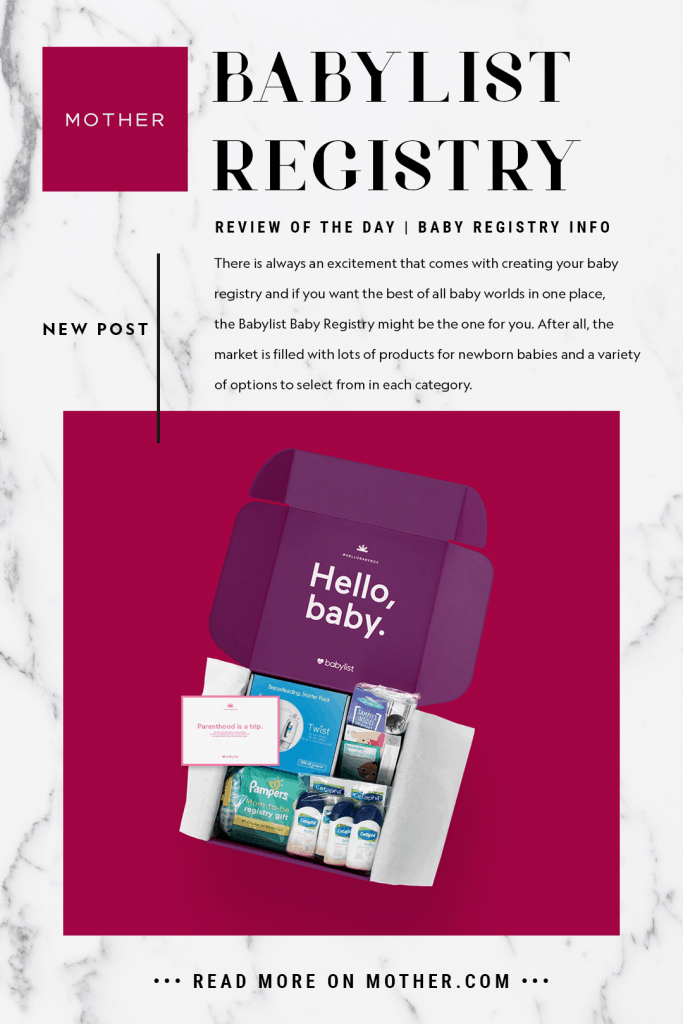 TECH-SAVVY FEATURES
Babylist has an app—and it's genuinely astonishing. In addition to the fact that it lets you get to your registry from any site, you have cell service. It allows you to search for an item and add it directly to your registry. To make things significantly simpler for you,
Babylist's search tab shows you a variety of the 12 most popular stores selling baby items (from Amazon and Target to Baby Gap and Carter's), so you can jump right onto their sites with the Babylist app running in the background. The "Add to Babylist" button is at the bottom of your screen so you can add an item to your registry immediately.
If you're looking for things on your PC or workstation and need a simple way to add them to your Babylist Baby Registry, you can add a Babylist extension to your Chrome browser. It lets you add things to your registry from any store just by clicking a button.
PRICE COMPARISONS
For each thing you add to your registry, Babylist shows different purchasing alternatives so those buying can score the best deal. What's more, to keep you totally on top of things, Babylist's price comparison highlight will send you email notifications whenever a price changes or a product becomes available (or is no longer available) on your registry.
ADD ITEMS FROM OTHER REGISTRIES
Have you found an item on another site? Don't sweat it. Babylist gives you the option to add other registries to your Babylist Baby Registry easily; this way, they are all in one place and are very easy to find for those that want to give you gifts.
10 PERCENT REGISTRY DISCOUNT
Whatever you didn't receive at your baby shower can be bought on Babylist. It offers a 10 percent discount fore 60 days before your baby's estimated due date. When you're qualified, a redemption link will show up on your registry. It is valid for up to 6 months after your baby's expected arrival.
The Babylist Baby Registry discount must apply to things sold on Babylist.com and it's a much-appreciated bonus.
DISADVANTAGES OF BABYLIST
If you're a huge fan of a particular store, you may find it more efficient to register with that store. You can do that and still have a Babylist registry by adding the store on Babylist, as well.
We think their return policy is reasonable, but it's worth noting that you're unable to return anything after 90 days from purchase. Those first 3 months with a baby can fly by so fast that you might forget.
Getting Started – How To Use Babylist Baby Registry
When you log on to babylist.com, you'll immediately have the choice of either setting up another registry of your own or finding a registry. What's more, if you already have an account, there's a simple link for logging in to it. When you click on "Start Your Babylist," you will be taken to a page that asks for information about your experience, that is, whether you're pregnant, going through an adoption or surrogacy, or still trying to conceive.
If you select "Pregnancy," you will be taken to another page that asks for your due date. From that point, you're guided to a sign-up page, where you'll enter your first and last names, email address, and a secret password. Boom! Your registry has been opened!
Babylist Baby Registry Checklist Test
Utilizing the Babylist Baby Registry is the easiest part. Don't have the foggiest idea where to begin? Take the checklist test, which will give you a rundown of baby gear that is custom-made to your specific way of life and requirements. From that point, you can add individual items to your registry or include them all by just clicking a button.
Although you can add anything to your Babylist Baby Registry, the Babylist store can be useful, as well. It lists products by category (i.e., strollers, car seats, carriers, playroom, nursery), and it also lists "Popular Registry Items," which are some of the best sellers.
Baby Registry 101 gives you the scoop on all the fundamentals for babies. Many aids inform new mothers and fathers about what they
---
You might also check out our other reviews for baby registries: Amazon Baby Registry Review, Walmart Baby Registry Review, Target Baby Registry Review
Breakdown
Conclusion
There is always a reason why most expecting moms boast of Babylist. It is not complicated to use, and there's almost nothing you can't do on Babylist. The whole registry process is easy with Babylist as it should be.
Positives
Ease of Use
Multiple Registries At Once
Price Comparison
%10 Registry Discount
Medical Disclaimer
The information contained in this post is for general information purposes only.
Babylist Baby Registry Information & Review is not intended to be a substitute for professional medical advice, diagnosis, or treatment. Always seek the advice of your physician or another qualified health provider with any questions you may have regarding a medical condition.