7 Tips For How To Be A Good Mother
Oh, parenting! Everyone has a different take on how to be a good mother, and everyone has a different definition of what that means. Unfortunately, society today tries to push these different opinions down our throats so hard that you end up choking in guilt, thinking that you are such a bad parent. As a mother, everyone has a different set of ideals about how to raise children.
This situation is specifically hard for new mothers because all these parenting things are new to them. Whether or not you took care of your younger siblings or other children before having a child, nursing your own child hits differently. There are so many uncertainties accompanying every action you take when taking the baby.
Have you ever had moments you felt like a bad mother to your kids? This article discusses the qualities of a good mother and how you can do motherhood better.
What Does It Mean To Be A Good Mother?
In the face of uncertainty, you are likely to doubt your capability as a mother, and that's where questions like "Am I doing it right?" or "Am I a good mom?" come in. For example, if your child doesn't want to share, becomes a picky eater, or doesn't do anything you tell them, does that make you a bad mom?
It gets worse when other mothers (self-proclaimed perfect mothers) point out 'mistakes' in the way you feed, dress, carry, and do everything that concerns your baby. However, none of those matters when we talk about how to be a good mother.
A good mom and a parent rejoices in their child's well-being, and so they give their best to ensure that their child is alright. This selfless nature of a mother keeps her going, striving to be the best she can for the sake of her child.
The fulfillment of being a good mother doesn't come when your kids can eat their vegetables or go to bed early, even though these are important in the child's development. It's about seeing your child growing up happily and hearing them say, "I love you, mom."
A good mom endeavors to teach her child to do right, even when it's difficult. In a world filled with so much evil, it's important to train up a child in the right way to go. This way, you'll be confident to let them soar on their wings, trusting them to do the right thing always.
Remember that wholesome parenting has nothing to do with perfection but being real and preparing your child for the reality of life.
Are you still feeling like a bad mom? Here are some tips to help you become a better mom.
If you'd like to learn more about how to be a good mother, please read on.
Mother's Pick & Amazon's Choice
n.o.w. Tone Therapy System | It's Yoga for Your Mind
$179.00 ($179.00 / Count)
Now you can meditate quickly and easily. Just turn it on for 3 minutes twice a day.
New Origin Waveforms are formed in-the-moment using the ancient Pythagorean tuning technique for sound therapy. Three minutes to refocus, re-energize, and prepare for the day's difficulties.
Buy Now
7 Smart Tips on How to be A Good Mother
You know deep within you that you are a great mom – the best mom there is. But there's always a thing or two you can do to become better. You'll also get over the feeling of 'not being a good mom' and be the best you can be for your child.
Here are some tips you'll love.
1. Don't let your inner critic win
Your inner critic challenges everything you do for your baby. It even goes as far as comparing you to other parents on how well you are raising your baby. It gets worse in this social media era where other mothers like you are sharing their parenting journeys online.
If you follow such too much and believe social media posts, you'll begin to compare yourself with them and downplay your efforts as a mother.
For your own peace of mind, it is important that you turn off that inner critic and enjoy the parenting journey. As long as your child is healthy, the rest will fall into place when they are ready to. Refuse to compare your parenting journey with another parent's journey because your children are different.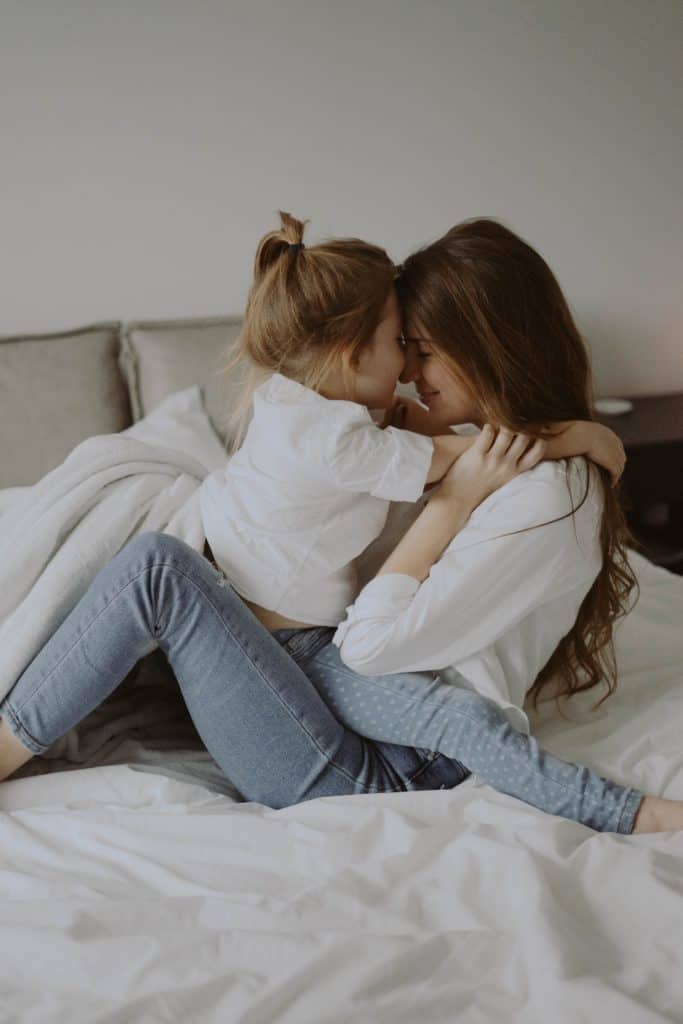 2. Substitute screen time with playtime
Children love their screen time, but so do you. How much time do you spend in a day just scrolling your phone? While everyone thinks children should get less screen time and engage in other activities, you too should consider placing the phone down for a while and playing with them.
Children are observant. So, while you are on your phone all through, they notice your attention to it and the time you spend on it other than spending that time with them. You can leave the phone for a while and engage your children in different activities.
Carve out sometime or allocate specific time in the day to play with your children. Time spent with them will always be memorable, and these memories will remain with them all through childhood to adulthood.
Read on to find out more about how to be a good mother and how to include it into your daily routine.
3. Pamper yourself a little – How to be a good mother?
Parenting is hard work. After a long day of kids here and kids there, you always have to feel so tired and rugged. However, you must take time to pamper yourself and allow yourself to feel better and ready for the next day.
Once the children go to sleep, give yourself that well-deserved bathtub soak relax. Take time off over the weekend for a manicure and some massage. Depending on how tight your schedules are, you can simply get some fresh air as you stroll around the block.
Taking care of yourself rejuvenates your physical body and mind to give you a wholesome feel. Failing to take care of yourself could make you feel depressed and resentful all the time, making you feel like a bad mother all over again.
Mother's Pick & Amazon's Choice
4. Inspire your children to communicate openly with you
As children grow, they get exposed to different environments, and you need to know what they are going through so that you can guide them. However, it's easy to create a 'How was school?' 'Good' kind of a relationship with your child.
To be a better mother, you can engage your child in thought-provoking conversations that will trigger them to ask questions and communicate better with you. A great mom is always confident that her child is able to make sound decisions in every situation they find themselves in.
It has nothing to do with being friends with your child but has everything to do with being their mom. That means they can come to you when they need you and count on you to help them in every way possible.
5. Let your child's creativity flow – How to be a good mother?
Children can't stand boredom. So, when they are bored, they become creative and keep themselves entertained. You'll notice them picking up a pencil to draw or modeling different things. Some will go out to the yard and direct themselves to an activity that interests them.
As a good mom, you have to let them connect with themselves and bring out their creativity. You only need to be sure they are safe, and you are present when they need your support.
The best way for them to grow strong is by allowing them to find their own path, make mistakes, and learn from them. For example, if your two-year-old toddler is building a block castle and you notice it's about to fall, will you let it fall and watch them cry in the aftermath? Yes, you should. That way, they'll learn to expect disappointments and know how to deal with them.
It's important that you read more about how to be a good mother. You can use what you learn there to improve your own life.
6. Lead by example
Children learn more through observation and doing things exactly how they are doing them. You'll notice that they copy even your words and repeat them when they need to communicate something. While it's great that children are learning from you, it's important that they learn the good stuff.
As a good mom, you have to let them learn some of these good practices from you. For example, toddlers may not like the idea of sharing their toys or snacks with others. It's a stage they will outgrow. However, you can help them learn to share at an early age.
The best way to each them a great trait-like sharing is to let them see you sharing things with other people. Start by sharing things like playing items with them and let them see how fun it is playing together.
7. Teach your kids self-worth – How to be a good mother?
The world today is unfair, and those who do not know their self-worth find themselves caught up in life's tangles without any help. Your child will soon be out there alone, facing all that life throws at them. Teaching them their self-worth will give them a solid identity that they can stand within any situation.
You can create an affirmation list with positive proclamations for each day for a start. Teach your child to say good things to themselves even when things seem to not work as they would want them to.
Additionally, help them develop the different qualities you'd like in a child by always complimenting their good deeds and rebuking their wrongdoings. This way, they'll know that their actions attract a different result, whether good or bad.
Mother's Pick & Amazon's Choice
Conclusion
The question of how to be a good mother is often a challenge on every front. It's acceptable because you can't judge anyone's parenting style and label it as good or bad. However, there are universally accepted ways of how to be a good mom, and you can embrace them and make your parenting journey more exciting.
How To Be A Good Mother Videos
Medical Disclaimer
The information contained in this post is for general information purposes only.
7 Tips For How To Be A Good Mother is not intended to be a substitute for professional medical advice, diagnosis, or treatment. Always seek the advice of your physician or another qualified health provider with any questions you may have regarding a medical condition.